Mary's Yes: an Artistic Advent Reflection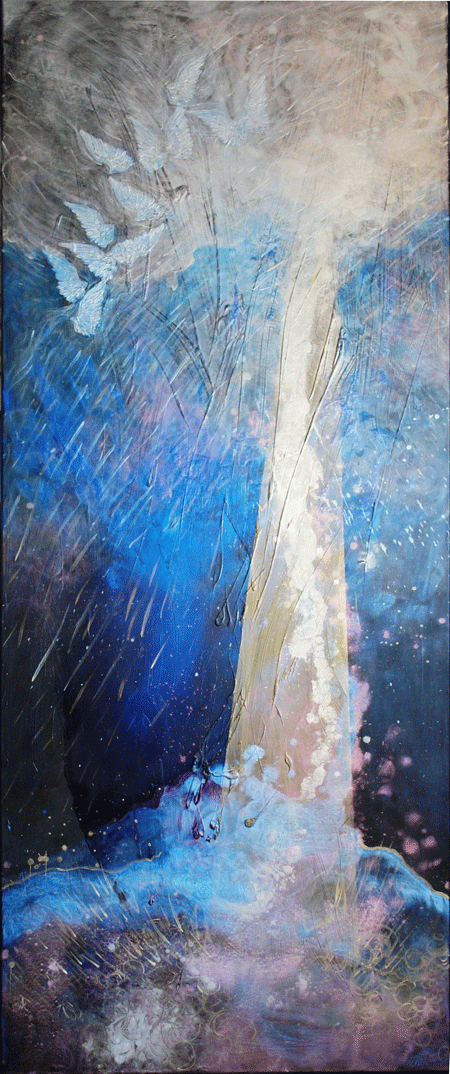 For Advent 2015, we chose a painting by Angelica Sotiriou called "Mary's Yes" a piece that would serve for meditation and a backdrop to our Advent reflections.
Advent is the time of year when we remember the coming of our Lord Jesus Christ. During this time, we begin to reflect on the story of Christmas and the mystery of the incarnation.
In that story, the angel Gabriel says to Mary, "The Holy Spirit will come upon you, and the power of the Most High will overshadow you; therefore the child to be born will be holy; he will be called Son of God."
And Mary responds with a "yes."
She doesn't have to. She could say, "No. Mary's YesNot me. Not now" or even "Why me? What about my future? My dreams?
But instead she says, "Here am I, the servant of the Lord; let it be with me according to your word."
Then the angel leaves her.
And in this moment, our salvation is made certain. Once the immortal and immaterial God unites Himself to human flesh in the womb of Mary, our salvation is made certain.
And words fail to convey the story, the beauty, the mystery.
"Mary's Yes" helps to capture the explosive nature of the moment. The infinite colliding with the finite, the holy with the unholy, matter infused with spirit.
We invite you to reflect and meditate on the story through this wonder-inducing painting. May it inspire you as it has us.
[The preceding was originally published online here by Gold Line Church.]